Hot Tub

This 3100 square foot home sets on 8.5 acres surrounded by pine trees. The land has a pond that is spring feed and full of fish. The house is two bedroom one bath, large living room, separate dinning room, new kitchen, and new separate utility room. The interior of the house is paneled throughout, and all cabinets are made of oak. Secluded, private, wild life, but still in the city limits with all the conveniences; city water, natural gas.
---
[Edit Listing | Contact ValueCom Add Listing ]
---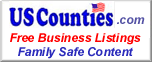 Powered by USCounties.com Data
The information on this site is furnished by user entered data from USCounties.com. If you wish to edit your listing please click the edit listing link above and scroll to the bottom of your page. Enter the password you used when the listing was created. If you have missplaced your password, go to the contact us form and include your State, County and Business Name. We will send a password to the original email address of the listing.