work from home, work at home, stay at home

I do every morning and I love it. They are ages 4, 3 and 2. After looking and being scammed for four years I found a legit home-based business. NO inventory, NO selling! 100% risk free! NOT MLM!
---
[Edit Listing | Contact ValueCom ]
---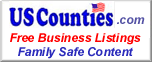 Powered by USCounties.com Data
The information on this site is furnished by user entered data from USCounties.com. If you wish to edit your listing please click the edit listing link above and scroll to the bottom of your page. Enter the password you used when the listing was created. If you have missplaced your password, go to the contact us form and include your State, County and Business Name. We will send a password to the original email address of the listing.