PRAYING MOM seeks PRAYING MOMS to WORK at HOME!

I found a 100% RISK FREE opportunity that will allow you to provide a BETTER and SAFER quality of life for you and your family WHILE improving your finances! NO selling, inventory or deliveries. I make NO get rich quick promises. What I DO OFFER is FREE Training, UNLIMITED Support and FREE Websites! Visit MY website and GET MORE INFO TODAY!
---
[Edit Listing | Contact ValueCom ]
---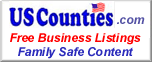 Powered by USCounties.com Data
The information on this site is furnished by user entered data from USCounties.com. If you wish to edit your listing please click the edit listing link above and scroll to the bottom of your page. Enter the password you used when the listing was created. If you have missplaced your password, go to the contact us form and include your State, County and Business Name. We will send a password to the original email address of the listing.