Air Conditioning
---
Butterworth
5151-2 Sunbeam Rd.
Jacksonville, FL 32257
904-781-7060
Contact Person: Dan Butterworth

Homepage: http://www.allweathercontractors.com



Air conditioning can be an expensive must have appliance for Jacksonville area residents. That's why our heating and cooling products are designed to provide the greatest level of comfort with the lowest possible energy consumption. Whether you're remodeling, building a new home or simply replacing an existing AC system, you can depend on us for reliable, efficient solutions that are guaranteed for years to come. At All Weather Contractors, we specialize in the sales, installation and repair of air conditioning systems for your home or business, to include:

---
[Edit Listing | Contact ValueCom | Add Listing ]
---
Submit your site to 300,000+ Search Engines, Directories and Classifieds
---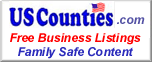 Powered by USCounties.com Data
If you wish to edit your listing please click the edit listing link above and scroll to the bottom of your page.
---

Butterworth - 5151-2 Sunbeam Rd. - Jacksonville, FL 32257 - 904-781-7060 - Air conditioning can be an expensive must have appliance for Jacksonville area residents. That's why our heating and cooling products are designed to provide the greatest level of comfort with the lowest possible energy consumption. Whether you're remodeling, building a new home or simply replacing an existing AC system, you can depend on us for reliable, efficient solutions that are guaranteed for years to come. At All Weather Contractors, we specialize in the sales, installation and repair of air conditioning systems for your home or business, to include: