Century21 Rankin Realty - Bob Wert
1815 West Howard St
Live Oak, Florida 32064
386-362-7080
Contact: Bob Wert
EMAIL: rwert@alltel.net
Homepage: http://www.bobsproperties.com


Real estate, realtor, homes, land, acreage, houses, farms
Farms, river front homes, and acreage

Specilaizes in North Florida real estate to include homes, land, acreage, houses, and farms in a four county area including the cities of Live Oak, Lake City, Jasper, Jennings, Branford, and Wellborn.
---
[Edit Listing | Contact ValueCom Add Listing ]
---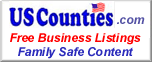 Powered by USCounties.com Data
The information on this site is furnished by user entered data from USCounties.com. If you wish to edit your listing please click the edit listing link above and scroll to the bottom of your page. Enter the password you used when the listing was created. If you have missplaced your password, go to the contact us form and include your State, County and Business Name. We will send a password to the original email address of the listing.
Real Estate Agent