Florida | Items_For_Sale
inspirational jewelry
---
Gospel Story Bracelets
824 36th street
west palm beach, florida,33407
561-845-1684
Contact Person: liane smith

Homepage: http://



Gospel Story Bracelets are beautiful hand crafted Bracelets made with Blessed matte finished stained glass beads.They make excellent gifts for family and friends and are outstanding witnessing tools.Gospel Bracelets come in several styles.(standard/repetitive styles)feature six colors;(sinners/repentance style)feature two colors and the (faith style)features two colors.All Bracelets come with either or a color corresponding Gospel Story Card;the Sinners/Repentance Prayer or an Inspirational Scripture Reading.All Bracelets are made to fit an average to a 7 1/2 inch wrist.(Testimonials of other wearers of these Bracelets are available on request) To Purchase Gospel Bracelets;send $3 cash(or)m/o To:

---
[Edit Listing | Contact ValueCom | Add Listing ]
---
Submit your site to 300,000+ Search Engines, Directories and Classifieds
---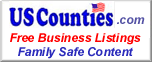 Powered by USCounties.com Data
If you wish to edit your listing please click the edit listing link above and scroll to the bottom of your page.
---

Gospel Story Bracelets - 824 36th street - west palm beach, florida,33407 - 561-845-1684 - Gospel Story Bracelets are beautiful hand crafted Bracelets made with Blessed matte finished stained glass beads.They make excellent gifts for family and friends and are outstanding witnessing tools.Gospel Bracelets come in several styles.(standard/repetitive styles)feature six colors;(sinners/repentance style)feature two colors and the (faith style)features two colors.All Bracelets come with either or a color corresponding Gospel Story Card;the Sinners/Repentance Prayer or an Inspirational Scripture Reading.All Bracelets are made to fit an average to a 7 1/2 inch wrist.(Testimonials of other wearers of these Bracelets are available on request) To Purchase Gospel Bracelets;send $3 cash(or)m/o To:

Valuecom Real Estate Gold
Top 100 Keyword Searches
---