The biggest Real Estate recource site.

Greater South Florida Treasure Coast and surrounding areas.Free list of Residential and Commercial properties,Free E-mail reports for Buyer,Sellers and Financing Real Estate. If you looking for property in the Treasure Coast or surrounding area,please give me a call (cell 772-979-2876)or E-mail fcgm@msn.com I will be happy to help you locate the right property at the right price, with the least amount of stress.
---
[Edit Listing | Contact ValueCom | Add Listing ]
---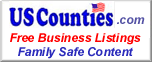 Powered by USCounties.com Data
The information on this site is furnished by user entered data from USCounties.com. If you wish to edit your listing please click the edit listing link above and scroll to the bottom of your page. Enter the password you used when the listing was created. If you have missplaced your password, go to the contact us form and include your State, County and Business Name. We will send a password to the original email address of the listing.