save $$$$ rent direct

Don't take a chance on your accommodation, choose the best before you go and stay in our fabulous, family-owned, luxurious, air-conditioned villa, with its own, very private, optionally heated, screened pool.

---
[Edit Listing | Contact ValueCom | Add Listing ]
---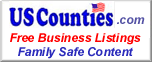 Powered by USCounties.com Data
The information on this site is furnished by user entered data from USCounties.com. If you wish to edit your listing please click the edit listing link above and scroll to the bottom of your page. Enter the password you used when the listing was created. If you have missplaced your password, go to the contact us form and include your State, County and Business Name. We will send a password to the original email address of the listing.