Tranquil Moments
4122 S Allendale Ct
Hephzibah, GA 30815
866-554-9412
Contact: Heather
EMAIL: wahglobal1@comcast.net
Homepage: http://www.tranquilmoments.net/heather



Tranquil Moments is a Bath&Body company that offers all-natural, handcrafted soaps and hand-made bath and body products. We are committed to bringing natural products of the highest quality possible into one's home!
---
[Edit Listing | Contact ValueCom ]
---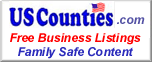 Powered by USCounties.com Data
The information on this site is furnished by user entered data from USCounties.com. If you wish to edit your listing please click the edit listing link above and scroll to the bottom of your page. Enter the password you used when the listing was created. If you have missplaced your password, go to the contact us form and include your State, County and Business Name. We will send a password to the original email address of the listing.