Will Be A Big Stout Tall Horse

Rascal is a Good Looking Sorrel Colt. He is very very friendly, and will be a stout, tall horse. Is a good youth gelding prospect. Available at weaning Aug 1, 2003 for $750.00. Eligible for the open Tri State Futurity in Burlington Iowa this September. Email for photos and more information. He is a good mover and will be a very big horse. Priced to sell.
---
[Edit Listing | Contact ValueCom Add Listing ]
---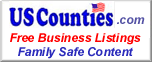 Powered by USCounties.com Data
The information on this site is furnished by user entered data from USCounties.com. If you wish to edit your listing please click the edit listing link above and scroll to the bottom of your page. Enter the password you used when the listing was created. If you have missplaced your password, go to the contact us form and include your State, County and Business Name. We will send a password to the original email address of the listing.