COMPUTER AND CLERICAL WORK
1100-14th Ave.
Fulton, IL. 61252
815-589-3972
Contact: Brent Bielema
EMAIL: airgun177@hotmail.com
Homepage: http://



EXPERT DATA PROCESSOR, INTENSELY LOYAL EMPLOYEE, LOOKING FOR COMPUTER AND CLERICAL WORK, SECOND SHIFT PREFERRED. ALSO LOOKING FOR A NICE PLACE TO HUNT SQUIRRELS. PREFER A WOODS WITHOUT COWS. I HUNT WITH AN AIRGUN, SO YOU WON'T EVEN HEAR ME AROUND!
---
[Edit Listing | Contact ValueCom ]
---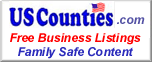 Powered by USCounties.com Data
The information on this site is furnished by user entered data from USCounties.com. If you wish to edit your listing please click the edit listing link above and scroll to the bottom of your page. Enter the password you used when the listing was created. If you have missplaced your password, go to the contact us form and include your State, County and Business Name. We will send a password to the original email address of the listing.