Mandolins, Metronomes, Drums Bags, Guitars, Amps

Please call 800-309-1585 or email david@crossroads-music.org for help on any item. Working with iwmce.com to bring resources to bands, nightclubs, and new music hobbyists. Industry expanding resources. Promoting music, it's benefits and its enjoyment. Affordable prices, quality merchandise and customer service. Metronomes, the keystone to building time-keeping, find the highest quality, and variety, in our online catalog, at the lowest prices.
---
[Edit Listing | Contact ValueCom | Add Listing ]
---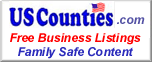 Powered by USCounties.com Data
The information on this site is furnished by user entered data from USCounties.com. If you wish to edit your listing please click the edit listing link above and scroll to the bottom of your page. Enter the password you used when the listing was created. If you have missplaced your password, go to the contact us form and include your State, County and Business Name. We will send a password to the original email address of the listing.