We have Mother & Father's Day gifts, Jewelry, Skin Care products, Make up and many other things.

Refer a person, be entered into a drawing. We have several darwings for our valuable customers. My website is in the making. If you would like to have a catalog or samples of our products, please call me and leave your name and number. I will return all calls as soon as possible.
---
[Edit Listing | Contact ValueCom ]
---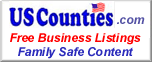 Powered by USCounties.com Data
The information on this site is furnished by user entered data from USCounties.com. If you wish to edit your listing please click the edit listing link above and scroll to the bottom of your page. Enter the password you used when the listing was created. If you have missplaced your password, go to the contact us form and include your State, County and Business Name. We will send a password to the original email address of the listing.