Minnesota | Local_Genealogy_Sites
Need to find my sister!
---
Need to find my sister, Kathleen Jean!!!
2765 130th St.
Lenox, IA 50851
641 333 2537
Contact Person: Jason (Bredow) Jodoin

Homepage: http://



My sister's name is Kathleen Jean Basil or Basel if she is single. She is 21 now, I believe. She is the daughter of Arnie Bradow, Jr. and Susan Basil. I am not sure of the spelling. In fact, my grandmother first thought that he last name might be Burrel. So maybe you should glance at more than just Brasil or Brazil. But she was b in the summer/fall of l979, I think. probably in June, July, August. This is a key also: When my sister tried to make contact with me about five years ago, she was l6 and pregnant. So maybe her child's birth is registed in this county. This would be a better clue. First I have to know her name to find her. I really doubt if she were married when she gave birth, but I don't know. If she did marry before giving birth, is there any easy way to find baby's name listed? or must you look thru each alphabetical listing in the birth records in the co. clerk's office to find a baby with her as the mother? I need someone to do that birth lookup. How quickly can you tell me if Kathleen gave birth in this county and what her last name really is? Thank you so much for doing this.... I need to talk with her. Her only sibling, Jason (born Bredow) Jodoin 641 333 2537
---
[Edit Listing | Contact ValueCom | Add Listing ]
---
Submit your site to 300,000+ Search Engines, Directories and Classifieds
---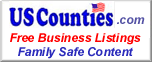 Powered by USCounties.com Data
If you wish to edit your listing please click the edit listing link above and scroll to the bottom of your page.
---

Need to find my sister, Kathleen Jean!!! - 2765 130th St. - Lenox, IA 50851 - 641 333 2537 - My sister's name is Kathleen Jean Basil or Basel if she is single. She is 21 now, I believe. She is the daughter of Arnie Bradow, Jr. and Susan Basil. I am not sure of the spelling. In fact, my grandmother first thought that he last name might be Burrel. So maybe you should glance at more than just Brasil or Brazil. But she was b in the summer/fall of l979, I think. probably in June, July, August. This is a key also: When my sister tried to make contact with me about five years ago, she was l6 and pregnant. So maybe her child's birth is registed in this county. This would be a better clue. First I have to know her name to find her. I really doubt if she were married when she gave birth, but I don't know. If she did marry before giving birth, is there any easy way to find baby's name listed? or must you look thru each alphabetical listing in the birth records in the co. clerk's office to find a baby with her as the mother? I need someone to do that birth lookup. How quickly can you tell me if Kathleen gave birth in this county and what her last name really is? Thank you so much for doing this.... I need to talk with her. Her only sibling, Jason (born Bredow) Jodoin 641 333 2537
Valuecom Real Estate Gold
Top 100 Keyword Searches
---