Start your Home Business for Under $10!

Cajun Country Candies offers unlimited income marketing a product with universal appeal - who can resist CANDY? No pills or gadgets to sell, No parties to have, No pressuring your friends -- just enjoy delicious Candy such as chocolate pecan fudge, sugar pralines, peanut clusters and rocky road fudge!
---
[Edit Listing | Contact ValueCom | Add Listing ]
---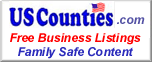 Powered by USCounties.com Data
The information on this site is furnished by user entered data from USCounties.com. If you wish to edit your listing please click the edit listing link above and scroll to the bottom of your page. Enter the password you used when the listing was created. If you have missplaced your password, go to the contact us form and include your State, County and Business Name. We will send a password to the original email address of the listing.