See Moon
South Main Street
Colebrook. NH. 03576
603-237-5800
Contact Person: Garry Carter

Homepage: http://www.see-moon.com


swords, knives, daggers, angels, wizards, dragons, gothic, wierd stuff, t-shirts, glow in the dark, bead curtains

See Moon, where we help you be a hero. Ornamental swords are our speciality. Fantasy blades by Gil Hibben, Kit Rae and many others.
---
[Edit Listing | Contact ValueCom | Add Listing ]
---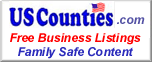 Powered by USCounties.com Data
The information on this site is furnished by user entered data from USCounties.com. If you wish to edit your listing please click the edit listing link above and scroll to the bottom of your page. Enter the password you used when the listing was created. If you have missplaced your password, go to the contact us form and include your State, County and Business Name. We will send a password to the original email address of the listing.