Graeme Nichol and Company
270 Sparta Ave, Ste 104, PMB 183
Sparta, NJ, 07871
973-726-8353
Contact: Graeme Nichol
EMAIL: graemenichol(AT)action-international(dot)com
Homepage: http://www.actioncoaching.com/graemenichol.ai


Business Coaching, Consulting, Organization redesign, Process Improvement
Marketing Improvement, Sales development, Time management,
Team training, Business planning, marketing planning, Free initial business analysis when mentioning this ad.

My focus is in the middle market in Northern New Jersey. Those companies who feel that a consulting relationship would be beneficial and would like to explore the possibilities of a fresh appraoch.
---
[Edit Listing | Contact ValueCom Add Listing ]
---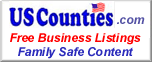 Powered by USCounties.com Data
The information on this site is furnished by user entered data from USCounties.com. If you wish to edit your listing please click the edit listing link above and scroll to the bottom of your page. Enter the password you used when the listing was created. If you have missplaced your password, go to the contact us form and include your State, County and Business Name. We will send a password to the original email address of the listing.
Business Consulting and Coaching