For home. For health. For life.
42 Pine Street
Yonkers, NY
914-968-8492
Contact: Lisa
EMAIL: amberr@my.tupperware.com
Homepage: http://www.my.tupperware.com/amberr


First Time Buyers Receive A FREE Gift
Receive A FREE Catalog
Earn FREE Tupperware

Welcome!
---
[Edit Listing | Contact ValueCom ]
---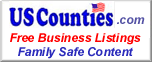 Powered by USCounties.com Data
The information on this site is furnished by user entered data from USCounties.com. If you wish to edit your listing please click the edit listing link above and scroll to the bottom of your page. Enter the password you used when the listing was created. If you have missplaced your password, go to the contact us form and include your State, County and Business Name. We will send a password to the original email address of the listing.
Tupperware