Coldwell Banker Surf
2790 Long Beach Rd.
Oceanside, NY 11561
516-637-1690
Contact: Erik Kobley
EMAIL: erik@erikkobley.com
Homepage: http://www.erikkobley.com


residential, first-time homebuyers, listing agent, licensed, full-time, luxury, waterfront, oceanfront, waterview, condo, co-op, townhouses

I am an experienced licensed full-time real estate agent who listens to my customers needs and finds them the home that they want to buy or finds them a pre-qualified buyer and makes all transactions as smooth as possible. I specialize in the South Shore of Nassau County. I have also sold homes in Brooklyn, Staten Island and Suffolk County. I would like to help you find what you need, too.
---
[Edit Listing | Contact ValueCom ]
---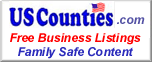 Powered by USCounties.com Data
The information on this site is furnished by user entered data from USCounties.com. If you wish to edit your listing please click the edit listing link above and scroll to the bottom of your page. Enter the password you used when the listing was created. If you have missplaced your password, go to the contact us form and include your State, County and Business Name. We will send a password to the original email address of the listing.
Real Estate Services