Gift, Jewwlry
---
Kss Services
183 India Street
Brooklyn
718-349-1429
Contact Person: Golam

Homepage: http://www.wholesalepricegifts.com



Gift, Jewelry and all necessary products at below wholesale price. Online and Wholesale Business Opportunity. Get $10 FREE. Submit your URL in major search Engine for FREE and much more just log on:

---
[Edit Listing | Contact ValueCom | Add Listing ]
---
Submit your site to 300,000+ Search Engines, Directories and Classifieds
---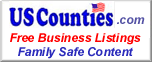 Powered by USCounties.com Data
If you wish to edit your listing please click the edit listing link above and scroll to the bottom of your page.
---

Kss Services - 183 India Street - Brooklyn - 718-349-1429 - Gift, Jewelry and all necessary products at below wholesale price. Online and Wholesale Business Opportunity. Get $10 FREE. Submit your URL in major search Engine for FREE and much more just log on: