North-Carolina | Items_For_Sale
Gourmet food items, Household items, Medicinals, Personal care and nutrition
---
Watkins Products (indpndt. distributor)
713 Barbee Farm Dr.
Monroe, NC 28110
704-238-1155
Contact Person: Kathy Welty

Homepage: http://www.watkinsonline.com/welty


100% satisfaction guaranteed
Call for free catalog
High quality products at a reasonable price

Watkins has been in business for 135 years. They are famous for their vanilla, and cinnamon. They have a full line of spices and seasonings (including 'salt-free'), puddings, soups,

---
[Edit Listing | Contact ValueCom | Add Listing ]
---
Submit your site to 300,000+ Search Engines, Directories and Classifieds
---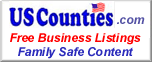 Powered by USCounties.com Data
If you wish to edit your listing please click the edit listing link above and scroll to the bottom of your page.
---

Watkins Products (indpndt. distributor) - 713 Barbee Farm Dr. - Monroe, NC 28110 - 704-238-1155 -
100% satisfaction guaranteed
Call for free catalog
High quality products at a reasonable price Watkins has been in business for 135 years. They are famous for their vanilla, and cinnamon. They have a full line of spices and seasonings (including 'salt-free'), puddings, soups,

Valuecom Real Estate Gold
Top 100 Keyword Searches
---