Visit our legal portal - www.uslawyerlocator.com

Local Findlay, Ohio company providing the very best in web site and e-commerce site design services. Full in-house design department. Javascript, Perl, ASP, Flash Animations, Audio/Video Productions, Realty sites, Small Business sites, Non-Profit Discount Pricing, Database Programming, Graphic Design, Logo Design, Banner Design, Internet Consultation, ISP Research, Internet Marketing and Promotions, Domain Name Registration, Search Engine Placement, and much much more!
---
[Edit Listing | Contact ValueCom | Add Listing ]
---
Submit your site to 300,000+ Search Engines, Directories and Classifieds
---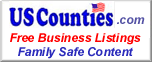 Powered by USCounties.com Data
If you wish to edit your listing please click the edit listing link above and scroll to the bottom of your page.
---

Dynamic Webs - 719 Sutton Place - Findlay, Ohio 45840 - 419-423-1372 -
We Specialize in DHTML and Flash Animations as well as E-commerce development.
Our sites get noticed...Excellent ratings in all major search engines.
Visit our legal portal - www.uslawyerlocator.com Local Findlay, Ohio company providing the very best in web site and e-commerce site design services. Full in-house design department. Javascript, Perl, ASP, Flash Animations, Audio/Video Productions, Realty sites, Small Business sites, Non-Profit Discount Pricing, Database Programming, Graphic Design, Logo Design, Banner Design, Internet Consultation, ISP Research, Internet Marketing and Promotions, Domain Name Registration, Search Engine Placement, and much much more!