Ohio | Health_and_Personal_Care
AMAZING WEIGHT LOSS SYSTEM!
---
Controls the Carbohydrates in YOUR BODY!
174 E. Elm St.
Sabina, OH 45169
937-584-2710
Contact Person: Larry East

Homepage: http://www.least.malibunow.com/-carblo


You Must Get Control Over Carbohydrates
To Effectively Lose Weight

With Our 30 Day IRON CLAD GUARANTEE

---
[Edit Listing | Contact ValueCom | Add Listing ]
---
Submit your site to 300,000+ Search Engines, Directories and Classifieds
---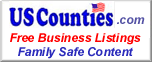 Powered by USCounties.com Data
If you wish to edit your listing please click the edit listing link above and scroll to the bottom of your page.
---

Controls the Carbohydrates in YOUR BODY! - 174 E. Elm St. - Sabina, OH 45169 - 937-584-2710 -
You Must Get Control Over Carbohydrates
To Effectively Lose Weight With Our 30 Day IRON CLAD GUARANTEE

Valuecom Real Estate Gold
Top 100 Keyword Searches
---