just a hello to my hometown
---
Donald Lauver
P.O. Box 651
LodgeGrass, Montana 59050
ICQ# 113913313
Contact Person: crowville

Homepage: http://www.geocities.com/crowville1967/



i just think this is a great site,, makes me homesick,,, been out west here since 1980 or before. was raised in yorksprings if any one wants to say hello i will respond to all i also am on aol and msn instant messenger as crowville,,, thanks for this space i hope this is what is here for,,,
---
[Edit Listing | Contact ValueCom | Add Listing ]
---
Submit your site to 300,000+ Search Engines, Directories and Classifieds
---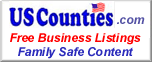 Powered by USCounties.com Data
If you wish to edit your listing please click the edit listing link above and scroll to the bottom of your page.
---

Donald Lauver - P.O. Box 651 - LodgeGrass, Montana 59050 - ICQ# 113913313 - i just think this is a great site,, makes me homesick,,, been out west here since 1980 or before. was raised in yorksprings if any one wants to say hello i will respond to all i also am on aol and msn instant messenger as crowville,,, thanks for this space i hope this is what is here for,,,