Pennsylvania | Vehicles_For_Sale
SUV, Suburban 1500
---
1988 Suburban 4X4, 1/2 Ton Excellent
P.O. Box 6
New Oxford, PA 17350
888-980-8806
Contact Person: Nick

Homepage: http://


4x4 Rebuilt Motor with approx. 65,000 miles
Custom tires, Just inspected
$4,900 OBO

140,000 miles on odomoter. rebuilt engine with 65K, Automatic, AirConditioned, Some rust, Excellent running condition. New brakes, rotors etc,
---
[Edit Listing | Contact ValueCom | Add Listing ]
---
Submit your site to 300,000+ Search Engines, Directories and Classifieds
---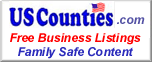 Powered by USCounties.com Data
If you wish to edit your listing please click the edit listing link above and scroll to the bottom of your page.
---

1988 Suburban 4X4, 1/2 Ton Excellent - P.O. Box 6 - New Oxford, PA 17350 - 888-980-8806 -
4x4 Rebuilt Motor with approx. 65,000 miles
Custom tires, Just inspected
$4,900 OBO 140,000 miles on odomoter. rebuilt engine with 65K, Automatic, AirConditioned, Some rust, Excellent running condition. New brakes, rotors etc,
Valuecom Real Estate Gold
Top 100 Keyword Searches
---