Tennessee | Homes_For_Sale_by_Owner
Real Estate
---
Lake House for Sale
128 Chapman Crest Drive
LaFollette, TN 37766
423-566-0857
Contact Person: Herman Lambert

Homepage: http://


Quiet neighborhood!
Good Fishing

Two bedroom, 1 bath, large deck and front porch. Lot is 100' x 150'. Fenced in yard. Paved driveway. Attached garage. Central heat and cooling. $52,000.00

---
[Edit Listing | Contact ValueCom | Add Listing ]
---
Submit your site to 300,000+ Search Engines, Directories and Classifieds
---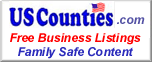 Powered by USCounties.com Data
If you wish to edit your listing please click the edit listing link above and scroll to the bottom of your page.
---

Lake House for Sale - 128 Chapman Crest Drive - LaFollette, TN 37766 - 423-566-0857 -
Quiet neighborhood!
Good Fishing Two bedroom, 1 bath, large deck and front porch. Lot is 100' x 150'. Fenced in yard. Paved driveway. Attached garage. Central heat and cooling. $52,000.00

Valuecom Real Estate Gold
Top 100 Keyword Searches
---