Texas | Business_Opportunities
---
AT HOME TEAM
615 Duncan
Coppell, Texas 75019
972-304-0143
Contact Person: Anke White

Homepage: http://athometeam.com


TAKE CHARGE OF YOUR LIFE…..Be a Leader
Home Based Business Opportunity, no inventory to maintain. Online ordering for your customers.
Team oriented help and assistance. Less that $40 to startup your business.

In today's unstable corporate environment, followers are left behind. Don't be one of those people who wish they had done something with their lives – do something today, FOR YOU. The At Home Team offers you the opportunity to lead your life, on your terms and with your own value system. Contact us today at: athometeam@juno.com

---
[Edit Listing | Contact ValueCom | Add Listing ]
---
Submit your site to 300,000+ Search Engines, Directories and Classifieds
---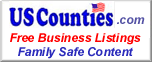 Powered by USCounties.com Data
If you wish to edit your listing please click the edit listing link above and scroll to the bottom of your page.
---

AT HOME TEAM - 615 Duncan - Coppell, Texas 75019 - 972-304-0143 -
TAKE CHARGE OF YOUR LIFE…..Be a Leader
Home Based Business Opportunity, no inventory to maintain. Online ordering for your customers.
Team oriented help and assistance. Less that $40 to startup your business. In today's unstable corporate environment, followers are left behind. Don't be one of those people who wish they had done something with their lives – do something today, FOR YOU. The At Home Team offers you the opportunity to lead your life, on your terms and with your own value system. Contact us today at: athometeam@juno.com

Valuecom Real Estate Gold
Top 100 Keyword Searches
---