Utah | Items_Wanted
Wanted 1 or 2 bedroom home for rent.
---
Tarra and Nate
6828W Copperhill Dr.
West Valley, Utah, 84128
804-696-1608
Contact Person: 801-696-1608

Homepage: http://



we are very clean people who are looking for a place in sanpete county. we live in west valley city. we are looking for a place that will accept our cat she is very good with the litter box and she is very clean. you can get a hold of me at 801-696-1608 and Nate at 801-347-3761
---
[Edit Listing | Contact ValueCom | Add Listing ]
---
Submit your site to 300,000+ Search Engines, Directories and Classifieds
---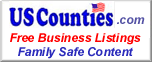 Powered by USCounties.com Data
If you wish to edit your listing please click the edit listing link above and scroll to the bottom of your page.
---

Tarra and Nate - 6828W Copperhill Dr. - West Valley, Utah, 84128 - 804-696-1608 - we are very clean people who are looking for a place in sanpete county. we live in west valley city. we are looking for a place that will accept our cat she is very good with the litter box and she is very clean. you can get a hold of me at 801-696-1608 and Nate at 801-347-3761
Valuecom Real Estate Gold
Top 100 Keyword Searches
---