West-Virginia | Business_Opportunities
MomsWIN - Work at Home Opportunity
---
MomsWIN - Work at Home Opportunity
Post Office Box 880
Peterstown, West Virginia 24963-0880
(304) 753-5647
Contact Person: Beth Dickerson

Homepage: http://www.momswin.com


Stay at Home and Make Money
Use Safer Products for you and your family!
Free website, personal training and support

Have you been looking for a work at home job? Lots to choose from out there, I know, I looked too. I found the right one. Try a legitimate Home Based business that puts families and their health first! Moms helping Moms work from home and they ARE Achieving their Dreams! No selling, inventory, collecting money, no bothering friends or family and no home partys! FREE WEBSITE! FREE TRAINING! UNLIMITED SUPPORT! Visit my website for more information. http://www.momswin.com/moremoneyformom
---
[Edit Listing | Contact ValueCom | Add Listing ]
---
Submit your site to 300,000+ Search Engines, Directories and Classifieds
---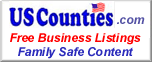 Powered by USCounties.com Data
If you wish to edit your listing please click the edit listing link above and scroll to the bottom of your page.
---

MomsWIN - Work at Home Opportunity - Post Office Box 880 - Peterstown, West Virginia 24963-0880 - (304) 753-5647 -
Stay at Home and Make Money
Use Safer Products for you and your family!
Free website, personal training and support Have you been looking for a work at home job? Lots to choose from out there, I know, I looked too. I found the right one. Try a legitimate Home Based business that puts families and their health first! Moms helping Moms work from home and they ARE Achieving their Dreams! No selling, inventory, collecting money, no bothering friends or family and no home partys! FREE WEBSITE! FREE TRAINING! UNLIMITED SUPPORT! Visit my website for more information. http://www.momswin.com/moremoneyformom
Valuecom Real Estate Gold
Top 100 Keyword Searches
---