West-Virginia | Items_For_Sale
Boer Goats and Rough Cut Wood For Sale!
---
Keen Acres Farm
4392 Left Fork Creek Rd
Grantsville, WV 26147
304-354-7192
Contact Person: Pastor Ed, Laz or Maria

Homepage: http://www.keenacresfarm.com/index.htm


Full Blood Boer Goats Breeders - reserve your 4-H kids early
Friendly Top of The Line Show Goats and 4-H Projects
Rough Cut Wood Cut to Order Afordable Price

We are a family owned and operated farm. We breed show quality Boer Goats and take reservations for 4-H projects. We also sell rough cut lumber, cut to order. Please call us for more details or to place your order today. 304-354-7192 or 304-354-0199 and visit us at www.keenacresfarm.com
---
[Edit Listing | Contact ValueCom | Add Listing ]
---
Submit your site to 300,000+ Search Engines, Directories and Classifieds
---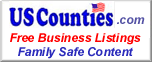 Powered by USCounties.com Data
If you wish to edit your listing please click the edit listing link above and scroll to the bottom of your page.
---

Keen Acres Farm - 4392 Left Fork Creek Rd - Grantsville, WV 26147 - 304-354-7192 -
Full Blood Boer Goats Breeders - reserve your 4-H kids early
Friendly Top of The Line Show Goats and 4-H Projects
Rough Cut Wood Cut to Order Afordable Price We are a family owned and operated farm. We breed show quality Boer Goats and take reservations for 4-H projects. We also sell rough cut lumber, cut to order. Please call us for more details or to place your order today. 304-354-7192 or 304-354-0199 and visit us at www.keenacresfarm.com
Valuecom Real Estate Gold
Top 100 Keyword Searches
---